Atopic Dermatitis
Atopic Dermatitis: New Developments
Presented by: Lawrence F. Eichenfield, MD, FAAD Professor of Dermatology and Pediatrics. University of California, San Diego. Rady Children's Hospital, San Diego, CA, USA

Key messages
Long-term safety data of PDE-4 inhibitors (crisaborole specifically) show promising results with limited safety concerns.
Additional PDE-4 inhibitors are currently in clinical trials.
The prostaglandin/leukotriene pathway is being investigated as it was shown that patients with AD have a higher level of eicosanoids in the skin. ZPL-521 is currently under investigation as a possible treatment approach.
Dupilumab and JAK inhibitors are gaining ground in the biologic armamentarium for the treatment of AD. Dupilumab has shown favorable responses and is currently being researched in children and adolescents. There are numerous other biologic drugs currently under development.
The microbiome of patients with AD has been shown to be different. Research is focusing on Staphylococcus coagulase negative species as a possible approach to treatment.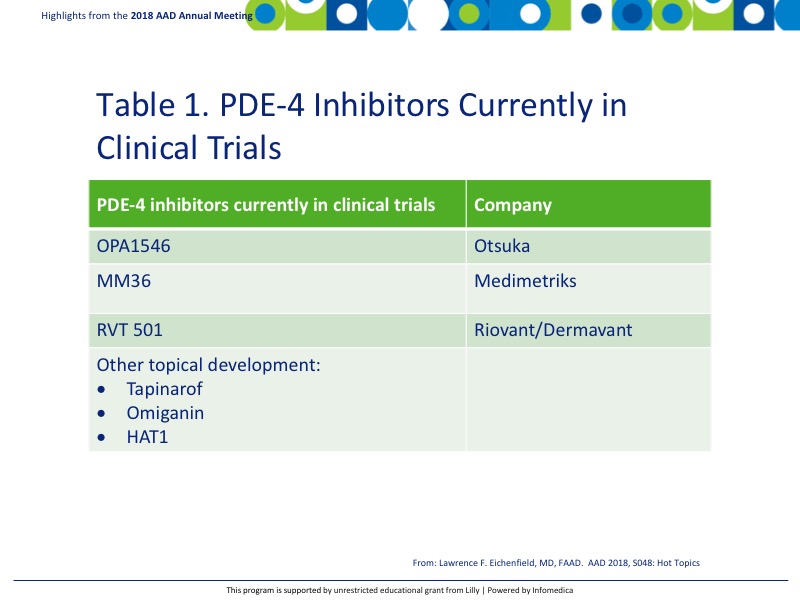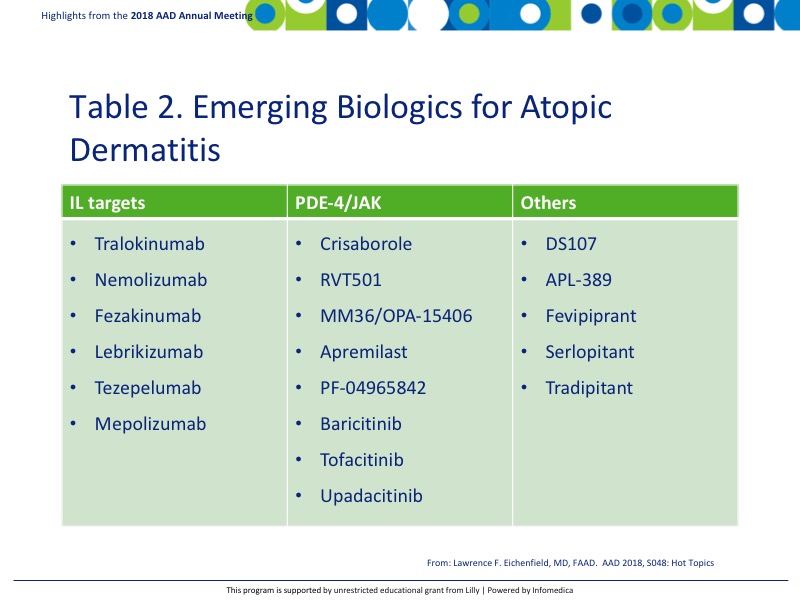 REFERENCES
Present disclosure: The presenter has reported that he is a consultant or investigator for Anacor/Pfizer, Cutanea, Dermavant, Genentech, Galderma Laboratories, Leo, Lilly, Matrisys, Medimedtriks, Morphosys, Novan, Novartis, Otsuka, Regeneron/Sanofi, and Ortho Dermatology.
Written by: Debbie Anderson, PhD
Reviewed by: Victor Desmond Mandel, MD